Né le 25 avril 1894 à CHOUDRANT (Louisiane, USA) fils de Larkin H. STEDMAN (1852-1948) et de Annie Lula MAYO (1866-1942), il eut 2 frères et 1 soeur. Pas de mariage ni d'enfant connu. Il était mécanicien d'ascenseur et habitait HOUSTON (Texas,USA).
Born april 25, 1894 in CHOUDRANT (Louisiana, USA) son of  Larkin H. STEDMAN (1852-1948) and Annie Lula MAYO (1866-1942), he had 2 brothers and 1 sister. No wedding and no child known. He was elevator mechanic and lived in HOUSTON (Texas, USA).
Il s'engage le 5 juin 1917 comme le montre sa « Registration Card ». Sa dernière unité connue est le 143e régiment d'infanterie, compagnie G, de la 36e Division ("Arrow Head") où il était private first class (en France c'est l'équivalent de soldat 1ere classe) avec comme numéro d'identification 1 495 364.
He joins on june 5, 1917 as shown by his Registration Card. His last known unit is the 143rd infantry regiment,company G of 36th Division ("Arrow Head")  where he was private first class. His serial number was 1 495 364.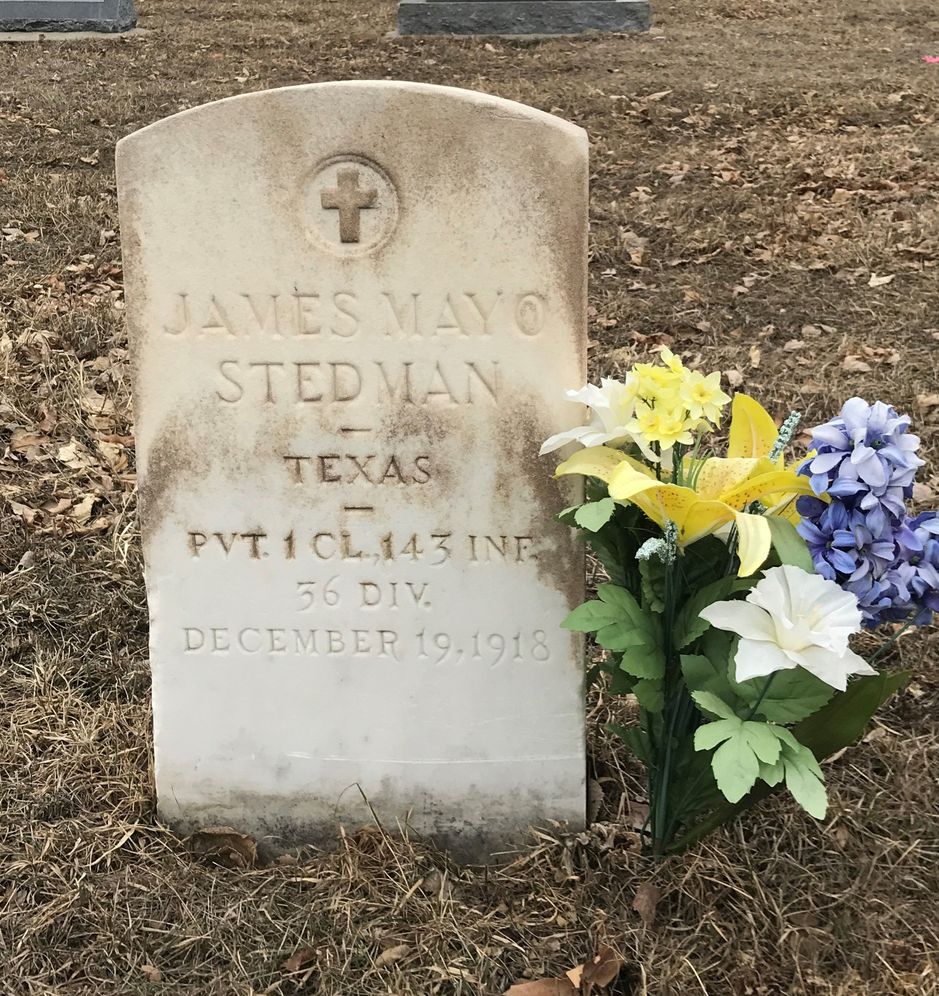 Il fut envoyé avec sa division en France, le 18 juillet 1918.
He was sent with his division to France the july 18,1918.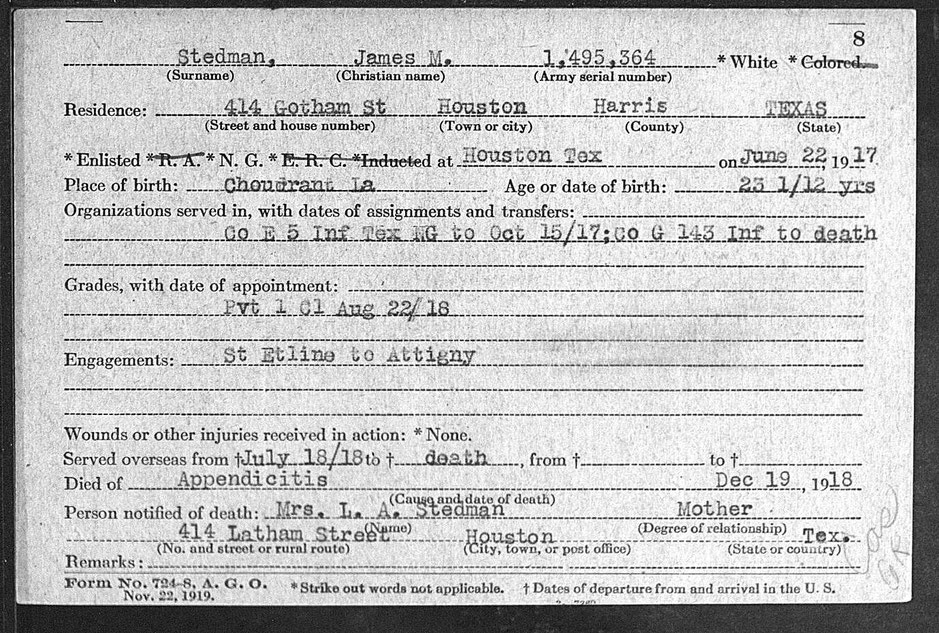 La 36e division participa à l'offensive Meuse-Argonne. Les 9 et 10 octobre, l'unité participa à un combat intense proche du village de Saint-Etienne. Après l'armistice, la division est envoyée à la 16e zone d'entrainement dont le point central est TONNERRE (Yonne, France), le régiment était à SERRIGNY (Yonne, France).
The 36th division participated at Meuse-Argonne offensive. On October 9 and 10, the unit participated in an intense fight near the village of Saint-Etienne. After the armistice, the division is sent to the 16th training zone whose central point is TONNERRE (Yonne, France), the regiment was in SERRIGNY(Yonne, France).
Il est mort le 19 décembre 1918 de l'appendicite. Il est enterré dans un lieu inconnu.
He died of appendicitis the december 19, 1918. He is buried in an unknown place.