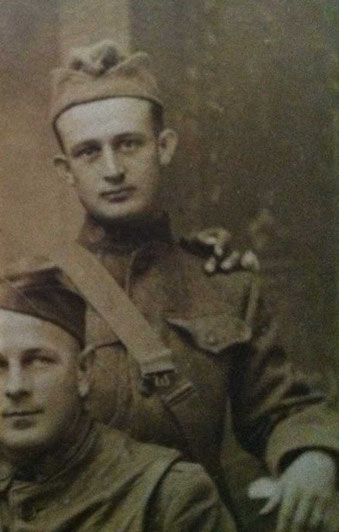 Né le 30 janvier 1893 à LONGVIEW (Texas, USA), fils de Leon "Lee" Leonidas SMITH (1858-1927) et de Nancy Elizabeth LUMMUS (1870-1900), il eut 3 frères et 1 sœur. Jamais marié et pas d'enfant. Il était blanchisseur mais n'était pas employé.
Born the january 30, 1893 in LONGVIEW (Texas, USA), son of Leon "Lee" Leonidas SMITH (1858-1927) and Nancy Elizabeth LUMMUS (1870-1900)., he had 3 brothers and a sister. Never married and no child. He was laundryman but not employed.
Il s'engage le 5 juin 1917 comme le montre sa « Registration Card ». Sa dernière unité connue est le 306e train d'approvisionnement, compagnie E, de la 81e Division ("Wildcats") où il était corporal (en France c'est l'équivalent de caporal) avec comme numéro d'identification 1 129 445.
He joins on june 5, 1917 as shown by his Registration Card. His last known unit is the 306th supply train, compagny E of 81st Division ("Wildcats") where he was corporal. His serial number was 1 129 445.
---
De Linda Schanzenbach, petite-nièce de Sydney
"Il a été élevé dans la ferme familiale à Longview, Texas, d'une famille nombreuse qui s'installa au Texas du Tennessee. C'était le frère de mon grand-père Léon, plus jeune de cinq ans. Toute la famille travaillait à la ferme et beaucoup de bras rend le travail plus facile. Malheureusement, leur mère Nancy décède en 1900 quand Sidney avait 7 ans. Je ne sais pas la cause de sa mort. Seulement un an plus tard, leur sœur encore bébé décède dans le feu d'une maison en 1901. Les archives montrent qu'ils avaient une gouvernante qui vivait avec eux. Sidney n'a jamais été marié et a été beaucoup aimé et regretté par mon grand-père. L'histoire familiale dit qu'il est mort de l'épidémie de grippe pendant qu'il attendait son retour à la maison, en France. Notre fille s'appelle Sydney en sa mémoire."
From Linda Schanzenbach, Sydney's grandniece.
"He was raised on the Smith family farm in Longview, Texas to a large extended family that had settled in Texas from Tennessee. He was my grandfather Leon's younger brother by four years. All the family worked the farm and many hands made work easier. Sadly, their mother Nancy died in 1900 when Sidney was only 7. I do not know the cause of death. Only a year later, their baby sister died in a house fire in 1901. Records show that they had a paid housekeeper that lived with them. Sidney never married and was greatly loved and missed by my grandfather. The family story is that he died from the influenza epidemic while awaiting shipment back home from France. Our daughter Sydney is named in his memory. "
---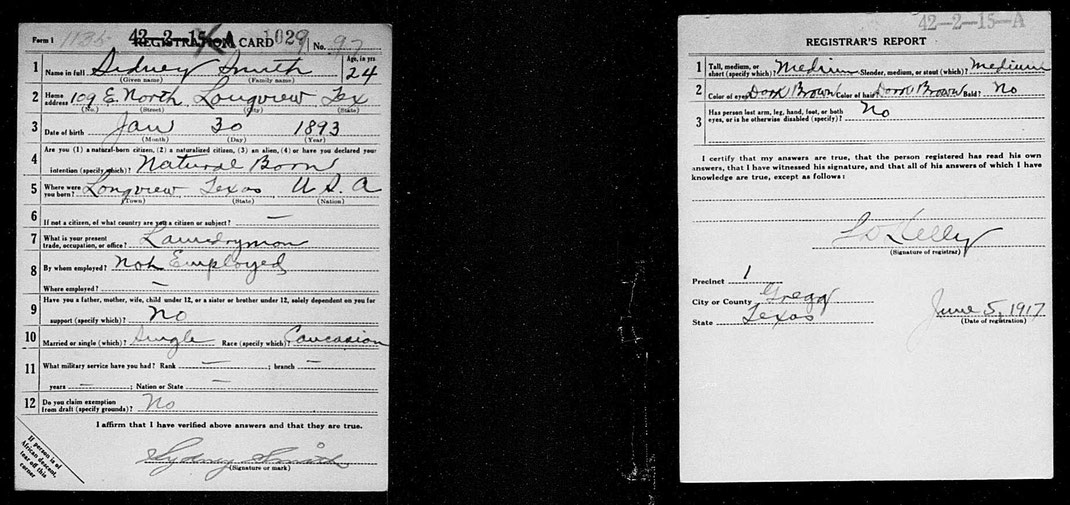 Il fut envoyé avec sa division en France, en août 1918.
He was sent with his division to France in august 1918.
La 81e division défends le secteur de Saint-Dié en septembre et début octobre. Après la fin de la mission, la 81e division est rattachée à la première armée américaine en préparation pour l'offensive Meuse-Argonne. Dans les derniers jours de la première guerre mondiale, la 81e division attaque une portion de la ligne défensive de l'armée allemande le 9 novembre 1918, et reste engagé dans des opérations de combat jusqu'à l'armistice.
The 81st division defending the St. Dié sector in September and early October. After relief of mission, the 81st Division was attached to the American First Army in preparation for the Meuse-Argonne Offensive. In the last days of World War I, the 81st Division attacked a portion of the German Army's defensive line on 9 November 1918, and remained engaged in combat operations until the Armistice.
Les archives de TONNERRE (Yonne, France) montre qu'il est mort le 19 février 1919 à l'hôpital de camp n°50 de broncho-pneumonie et de péritonite. Il est enterré à THIAUCOURT-REGNIEVILLE (Meurthe-et-Moselle, France) au cimetière américain Saint Mihiel.
The TONNERRE archives (Yonne, France) shows that he died of Broncho-pneumonia and peritonitis on february 19, 1919 at Camp Hospital No. 50. He is buried in THIAUCOURT-REGNIEVILLE (Meurthe-et-Moselle, France) at  Saint Mihiel American Cemetery and Memorial.