Né le 3 septembre 1895 à GEORGETOWN (Texas, USA) fils William Curtis SCHUMPERT (1853–1923) et de Tommie Elizabeth PARK (1859–1933), il eut 5 frères et 4 soeurs. Pas de mariage ni d'enfant connu. Il était maréchal-ferrant et habitait PORT O'CONNOR (Texas,USA).
Born the September 3, 1895 in GEORGETOWN (Texas, USA) son William Curtis SCHUMPERT (1853–1923) of and Tommie Elizabeth PARK (1859–1933), he had 5 brothers and 4 sisters. No marriage and no child known. He was Horse shoer and lived in PORT O'CONNOR (Texas, USA).
Il s'engage le 5 juin 1917 comme le montre sa « Registration Card ». Sa dernière unité connue est le 143e régiment d'infanterie, compagnie de l'état major, de la 36e Division ("Arrow Head") où il était horse shoer (en France c'est l'équivalent de maréchal-ferrant) avec comme numéro d'identification 1 496 476.
He joins on june 5, 1917 as shown by his Registration Card. His last known unit is the 143rd infantry regiment, headquarter company of 36th Division ("Arrow Head")  where he was Horse shoer. His serial number was 1 496 476.

Il fut envoyé avec sa division en France, le 18 juillet 1918.
He was sent with his division to France th july 18,1918.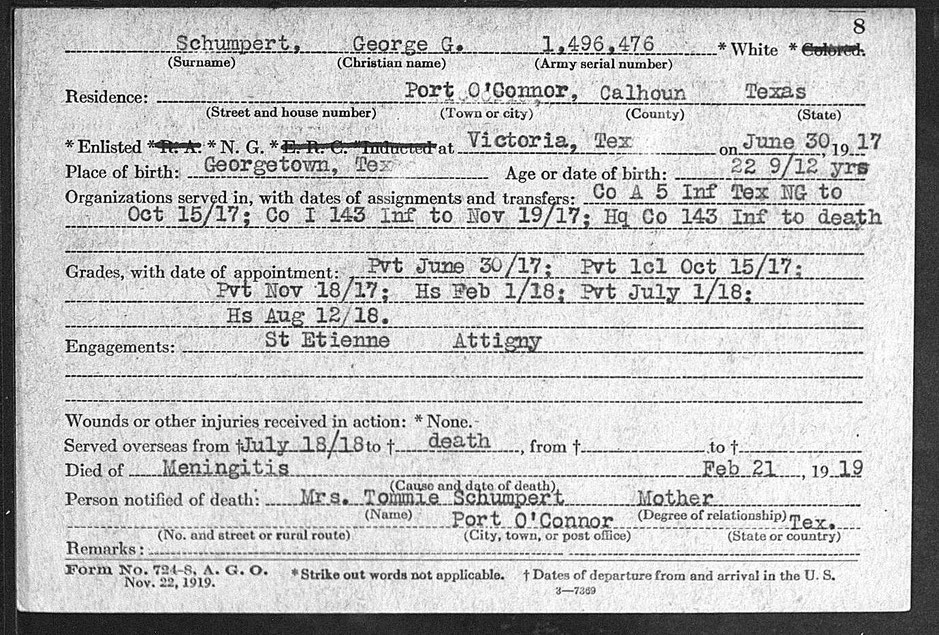 La 36th division participa à l'offensive Meuse-Argonne. Les 9 et 10 octobre, l'unité participa à un combat intense proche du village de Saint-Etienne. Après l'armistice, la division est envoyée à la 16e zone d'entrainement dont le point central est TONNERRE (Yonne, France), le régiment était à SERRIGNY (Yonne, France).
The 36th division participated at Meuse-Argonne offensive. On October 9 and 10, the unit participated in an intense fight near the village of Saint-Etienne. After the armistice, the division is sent to the 16th training zone whose central point is TONNERRE (Yonne, France), the regiment was in SERRIGNY(Yonne, France).
Les archives de TONNERRE (Yonne, France) montre qu'il est mort le 21 février 1919 à l'hôpital de camp n°50 d'une méningite. Il est enterré à FREDERICK (Oklahoma, USA) au cimetière « Frederick Memorial Cemetery ».
The TONNERRE archives (Yonne, France) shows that he died of meningitis on february 21, 1919 at Camp Hospital No. 50. He is buried in FREDERICK (Oklahoma, USA) at « Frederick Memorial Cemetery ».
---
George G. Schumpert, 143e d'infanterie, a fait la « ascension » à Chamonix, situé à côté du Mont Blanc (à ne pas confondre avec Blanc Mont) sur le bord occidental des Alpes Pennines couvertes de neige près des frontières suisses et italiennes, sur "un chemin de fer électrique" qui s'enroule "dans et autour des tunnels et des montagnes et des ravins" pendant plus d'une heure. Une fois-là, il a apprécié "un hôtel confortable", de la bonne nourriture, un bon lit, "et la chaleur à la vapeur." Il y avait des points d'intérêt, mais cela aurait été « un endroit ennuyeux sans le Y et vingt jolies filles américaines qui pouvaient danser, patiner, faire du ski, du traîneau et tout pour plaire aux hommes, en plus de diriger une cantine capitale. " Il semblerait que les filles du YMCA aient suffi à elles seules pour préserver la bonne réputation de l'organisation auprès des Texans et des Oklahomans en France.
George G. Schumpert, 143rd Infantry, made the "steep ascent" to Chamonix, located next to Mont Blanc (not to be confused with Blanc Mont) on the western edge of the snow-covered Pennine Alps near the Swiss and Italian borders, on "an electric railway" that wound "in and about tunnels and mountains and ravines" for over an hour. Once there he enjoyed "a comfortable hotel," good food, a fine bed, "and steam heat." There were points of interest, but it would have been "a dull place were it not for 'Y' and twenty pretty American girls who could dance, skate, ski, sled, and everything to please the men, besides running a capital canteen." It would appear that the YMCA girls alone may have been enough to preserve the organization's good name with the Texans and Oklahomans in France.
Historique de la division - Division's story
---