Bernis ou Bernard. Né le 29 juin 1895 à NORTH BENNINGTON (Vermont, USA) de Frank/Francis POWERS (1871-1929) et de Mary SHANAHAN (1870-1956). Pas de mariage ni d'enfant connu. Il était conducteur.
Bernis or Bernard. Born june 29, 1895 in NORTH BENNINGTON (Vermont, USA) of Frank/Francis POWERS (1871-1929) and Mary SHANAHAN (1870-1956). No marriage and no child known. He was motorman.
Il s'engage le 5 juin 1917 comme le montre sa « Registration Card ». Sa dernière unité connue est le 16e régiment de génie, compagnie B, spécialisé dans le ferroviaire (Régiment d'Exploitation Ferroviaire Standard Gauge) où il était sergeant (en France c'est l'équivalent de sergent) avec comme numéro d'identification 80 783.
He join on june 5, 1917 as shown by his Registration Card. His last known unit is the 16th engineer, company B, specialized into railway (Standard Gauge Railway Operating Regiment) where he was sergeant. His serial number was 80 783.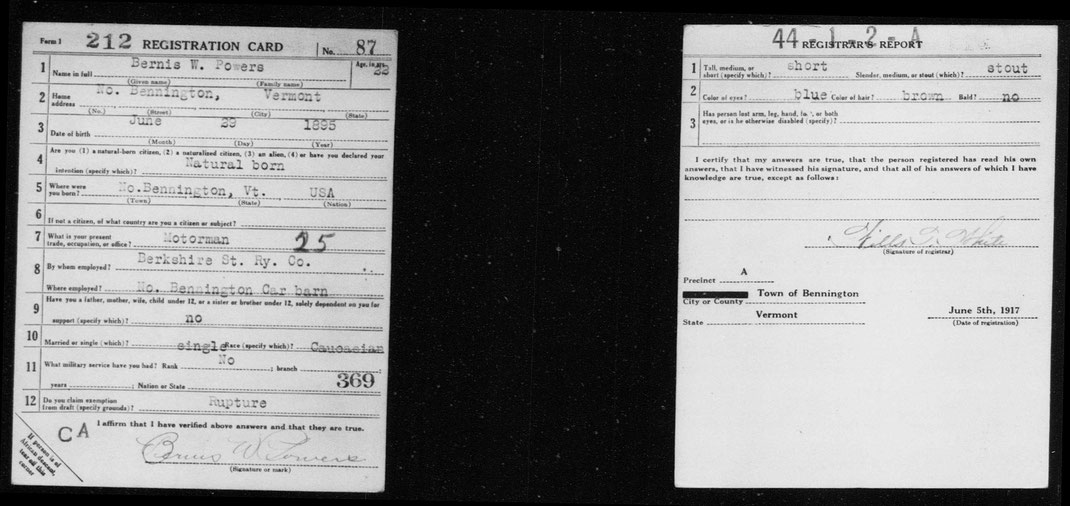 Il fut envoyé avec son régiment en France, en juillet 1918.
He was sent with his regiment to France in july 1918.


Le Bourguignon (journal) :
"Monsieur Denis DEVAUX, poseur au chemin de fer, a trouvé, à deux kilomètre environ de la gare de Saint-Julien-du-Sault, le cadavre en bouillie d'un militaire qui, d'après les papiers trouvés sur lui, a été reconnu pour être un soldat américain nommé Bernis William Power. Il avait le crâne écrasé et les jambes coupées. On a ramassé des débris de chairs sur une longueur de soixante mètres. On suppose que le malheureux est tombé d'un train en marche."
Le Bourguignon (newspaper) : 
"Mr. Denis DEVAUX, a railroad worker, found, about two kilometers from the Saint-Julien-du-Sault station, the corpse of a soldier who, according to the papers found on him, was recognized to be an American soldier named Bernis William Power, his head was crushed and his legs were cut off, on a scrap of chair debris over a length of sixty meters It is assumed that misfortune fell from a train in motion . "
Il est mort d'un accident de train le 29 décembre 1918 à SAINT-JULIEN-DU-SAULT (Yonne, France). Il est enterré à NORTH BENNINGTHON (Vermont, USA) au cimetière « Saint John the Baptist Cemetery ».
He died of train accident the december 29, 1918 at SAINT-JULIEN-DU-SAULT (Yonne, France). He is buried in NORTH BENNINGTHON (Vermont, USA) in « Saint John the Baptist Cemetery ».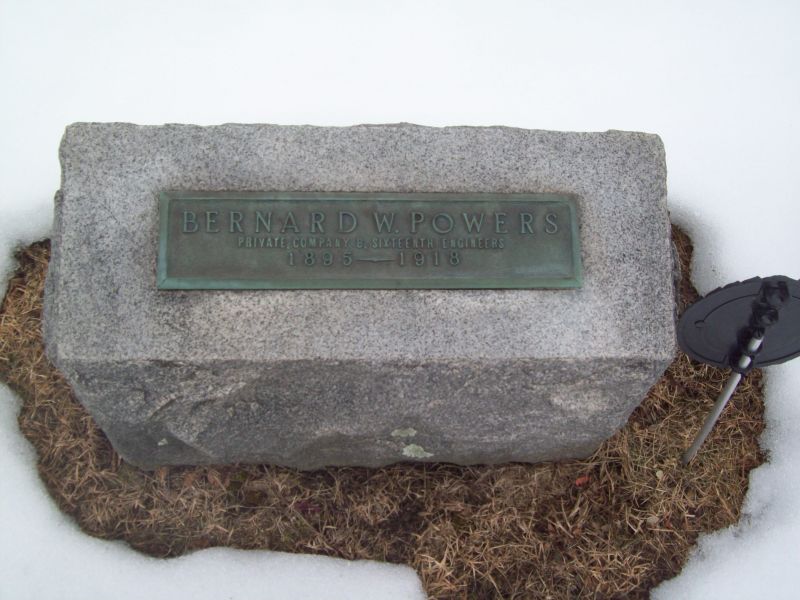 Preuve convaincante
Lettre d'un prête en France concernant la mort de Bernis W. POWERS.
Il ne peut plus y avoir de doute sur la disparition et la mort de Bernis W. PPOWERS de North Bennington, comme une lettre reçue du Révérant A. PIERRE, de France, au Révérant Thomas BURKE, transmettant l'information que ce garçon de Bennington était accidentellement tué en France en tombant d'un train. Des lettres ont été reçues par la famille de divers soldats, et des rumeurs circulent selon lesquelles Bernis Powers était toujours en vie et rentrerait encore chez lui; mais aucune pensée encourageante de ce genre ne peut maintenant être entendue par sa famille et ses amis, car la lettre reçue par le père Burke semble couvrir le dossier complet de sa mort et de son enterrement à Saint-Julien du Sault.
La lettre du révérant A. PIERRE au révérant Thos. BURKE est la suivante :
"Il est malheureusement trop vrai que le jeune soldat dont vous m'avez écrit est mort. Comment cela est arrivé, Dieu seul le sait. Il revenait d'un congé à Paris sur le train de nuit. Il est tombé du train et a été retrouvé mort sur les rails. Une copie de l'acte de décès préparé pour le maire de Saint-Julien du Sault est la suivante: Dec. 29, 1918, vers 2heures du matin, un individus masculin, un soldat américain, portant des plaques d'identification comportant les inscriptions 'B. W. Powers, 80783, Co. B, 16th Eng. U.S.A. Send for priest'  dont l'identité n'a pu être établie est retrouvé mort sur la voie ferrée au lieu-dit Des Satlons. Sa description est la suivante: âge d'environ 25 ans, 1 mètre 65 centimètres de hauteur, cheveux bruns, uniforme kaki, préparé pour l'enterrement le 30 décembre 1918 à Saint-Julien et (illisible) 10h sur la déclaration de Pierre Villages, 45 ans, un policier de St. Julien et Louis Godard, 53 ans, l'ayant lu. Ils ont signé avec nous. Etienne Gustave Vincent, maire de Saint-Julien du Sault.
Le même jour, le commissaire américain de la police de Sens est venu avec deux autres hommes me trouver et m'a demandé d'enterrer ce brave garçon. Tué, nous croyons accidentellement. La cérémonie a été fixée au lendemain. J'étais à l'hôpital où le corps avait été transféré, les prières à dire chez le défunt y étaient lues, le corps était placé sur un chariot d'artillerie et entouré de soldats américains en armes et de soldats et officiers français. Je l'ai conduit à l'église où j'ai célébré l'office puis au cimetière où il repose. La tombe est surmontée d'une croix avec son nom dessus.
Ici on m'a convaincu que le pauvre garçon était penché du train ayant sans doute perdu l'équilibre, il est tombé au sol, à cause de la vitesse du train. Cela semble d'autant plus probable que plusieurs accidents similaires se sont produits. Voilà, cher Père, les quelques détails que j'ai pu vous donner. Ce sera une consolation pour la famille de savoir qu'il a eu un enterrement chrétien avec tous les honneurs dus à un soldat qui repose ici en terre bénie. "
-----------
Convincing Proof
Letter from Pries in France Concerning Death of Bernis W. POWERS.
There can no longer be any doubt as to the disappearance and death of Bernice W. Powers of North Bennington as a letter received from Rev. A. Pierre, of France, to Rev. Thomas BURKE, conveys the information that this Bennington boy was accidentally killed in France by falling from a train. Letters have been received by the family from various soldiers, and rymors have been current that Bernis Powers was still alive and would yet return home ; but no such encouraging thoughts can now be enternained by his family and friends, as the letter received by Father Burke seems to cover the complete record of his death and burial at St. Julien du Sault. The letter from Rev. A. PIERRE to Rev. Thos. BURKE is as follows :
"It is unfortunately too true that the young soldier about whom you wrote me is dead. How that happened, God only knows. He was returning from a furlough at Paris on the night express. He fell from the train and was found dead on the tracks. A copy of the 'Act of Decease' prepared for the Mayor of St. Julien du Sault is as follows : 'Dec. 29, 1918 about two o'clock in the morning an individual of masculine sex, an American soldier, wearing an identification tag on which was engraved the following information. 'B. W. Powers, 80783, Co. B 16th Eng. U.S.A. Send for priest' who identity could not be established is found dead on the railroad tracks at the place called Des Satlons. His description is the following : Age about 25, 1 meter 65 centimeters tall, hair brown, uniform khaki, prepared for burial Dec. 30, 1918 at St. Julien and (unreadable) 10 a.m. on the declaration of Pierre Villages, 45 years, a policeman at St. Julien and Louis Godard, 53 years, having read it. They signed with us. Etienne Gustave Vincent, Mayor of St. Julien du Sault.
The same dayt the American commissioner of police of Sens, came with two other men to find me and asked me to bury this brave boy. Killed we believe accidentally. The ceremony was set for the following day. I was at the hospital where the body had been transferred, the prayers to be said at the house of the deceased was read there, the body was placed on an artillery wagon and surrounded by American soldiers in arms and French soldiers and officers. I conducted it to the church where I celebrated the office and then to th cemetery where it reposes. The grave is surmounted with a cross with his name on it.
Here I have been pursuaded that the poor boy was leaning from the train having without doubt lost his balance, he fell to the ground, because of the speed of the train. It seems all the more probable because several similar accidents have happenend. Here dear Father are the few details that I have been able to give you. It will be a consolation for the family to know that he has had a christian burial with all the honors due a soldier who reposes here in blessed ground."