Né le 8 février 1891 à SALERNE (Province de Salerne, Italie). Pas de mariage ni d'enfant connu. Il travaillait comme pompier.
Born the february 8, 1891 in SALERNO (Province of Salerno, Italy). No marriage and no child know. He was fireman.
Il s'engage le 5 juin 1917 comme le montre sa « Registration Card ». Sa dernière unité connue est le 115e régiment d'infanterie, compagnie L de la 29e Division ("Blue and Gray Division") où il était private (en France c'est l'équivalent de soldat 2e classe). Son numéro d'identification était le 369 908.
He joins on june 5, 1917 as shown by his Registration Card. His last known unit is the 115th Infantry, company L of the 29th Division ("Blue and Gray Division") where he was private. His serial number was 369 908.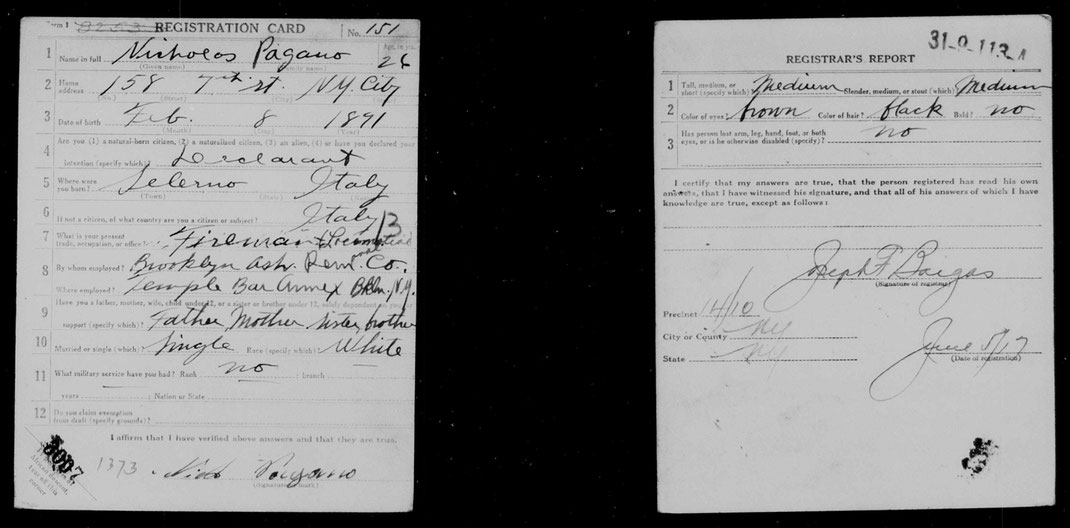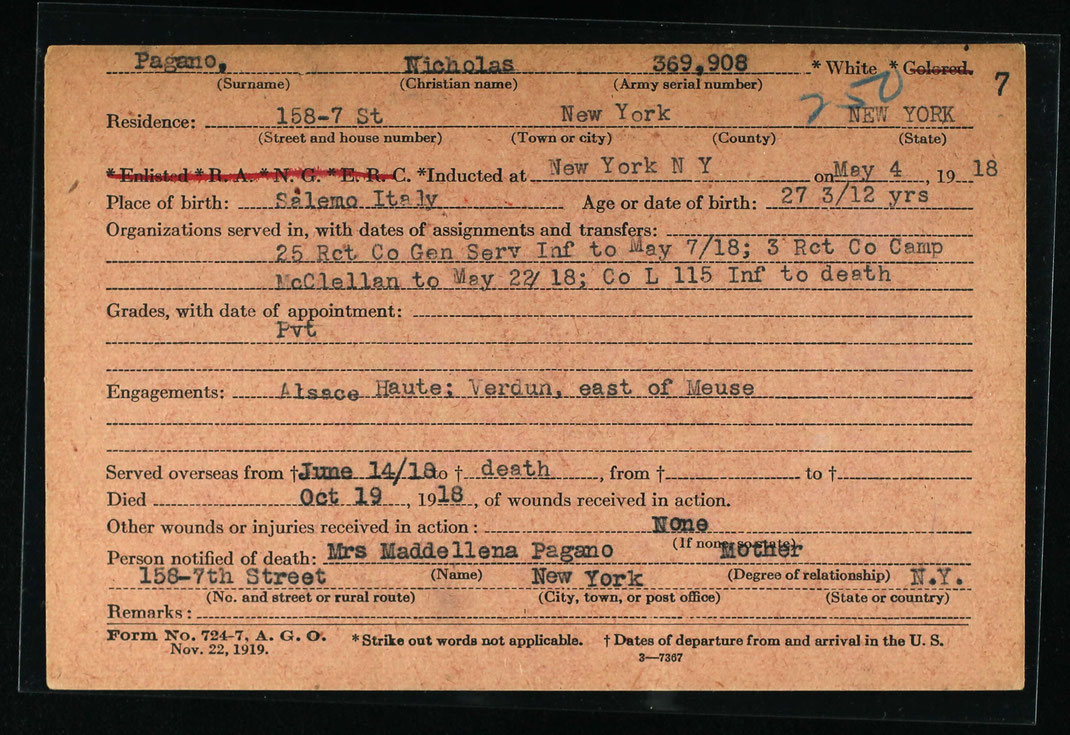 Il fut envoyé avec sa division en France, en juin 1918.
He was sent with his division to France in june 1918.
Fin septembre, la 29e reçoit l'ordre de rejoindre la première armée américaine dans l'offensive Meuse-Argonne avec le XVIIe corps français. Durant ses 21 jours de combat, la 29e division avança de sept kilomètres, captura 2 148 prisonniers et plus de 250 mitrailleurs ou pièces d'artilleries. Trente pourcent de la division a été soit blessé soit tué.
In late September, the 29th received orders to join the U.S. First Army's Meuse-Argonne Offensive as part of the French XVII Corps. During its 21 days in combat, the 29th Division advanced seven kilometers, captured 2,148 prisoners, and knocked out over 250 machine guns or artillery pieces. Thirty percent of the division became casualties.
Il est mort des suites de ses blessure le 15 octobre 1918 à PONTIGNY (Yonne, France). Son lieu de sépulture reste inconnu.
He died of wounds the october 15, 1918 in PONTIGNY (Yonne, France). His burial location is unknown.