Né le 13 septembre 1890 à BROWNSVILLE (Texas, USA) de Jose Salvador RAMIREZ MORELOS (1842-?) et Rosa FUCH (1855-1925), il aura quatre frères et six sœurs. Célibataire et sans enfant. Il travaillait comme charpentier et vivait à BROWNSVILLE (Texas, USA).
Physiquement, il était petit et de carrure robuste, avec les yeux marrons et cheveux bruns.
Born on September 13, 1890 in BROWNSVILLE (Texas, USA) to Jose Salvador RAMIREZ MORELOS (1842-?) and Rosa FUCH (1855-1925), he will have four brothers and six sisters. Single and childless. He worked as a carpenter and lived in BROWNSVILLE (Texas, USA).
Physically, he was short and of sturdy build, with brown eyes and brown hair.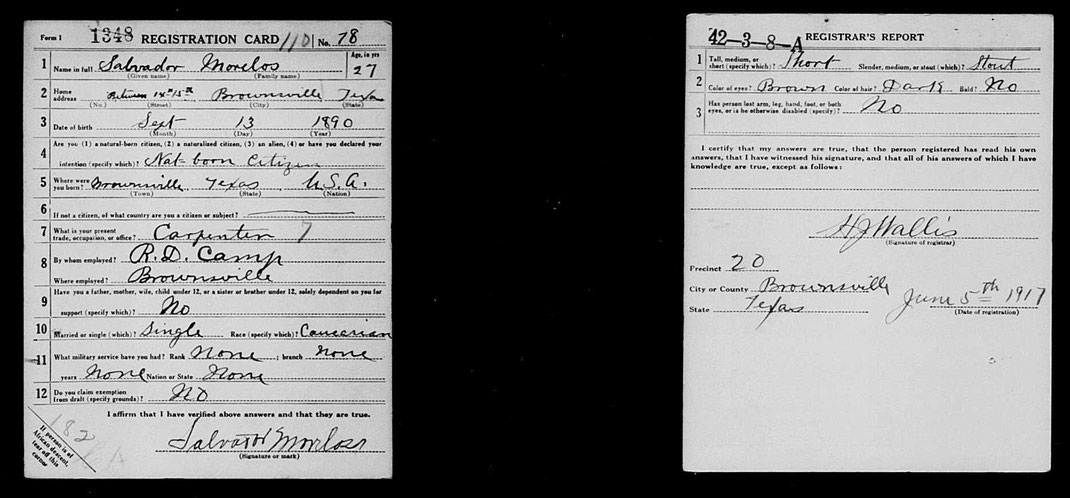 Il s'engage le 18 juin 1917 à BROWNSVILLE (Texas, USA) en tant que « private » (soldat 2e classe) avec le numéro de matricule 1.488.846, où il est assigné au 141e régiment d'infanterie ; compagnie de l'état-major. Le 17 mai 1918, il obtient le grade de « mechanic » (mécanicien).
He enlisted on June 18, 1917 in BROWNSVILLE (Texas, USA) as a private with the serial number 1,488,846, where he was assigned to the 141st infantry regiment; staff company. On May 17, 1918, he obtained the rank of mechanic.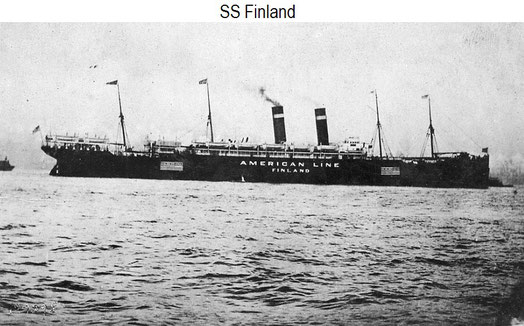 Le 26 juillet 1918, il embarque à bord du paquebot FINLAND, de la compagnie Red Star Line, à HOBOKEN (New Jersey, USA), direction la France en compagnie de son régiment, du 111e train d'état-major et de police militaire, et d'autres unités pour un total de 3976 personnes à bord. 
On July 26, 1918, he boarded the liner FINLAND, of the Red Star Line company, in HOBOKEN (New Jersey, USA), toward France with his regiment, the 111th staff train and military police. , and other units for a total of 3976 people on board.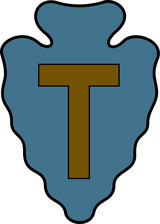 La division fut envoyée en Europe en juillet 1918 et mène des opérations majeures lors de l'offensive Meuse-Argonne. Les 9 et 10 octobre, la division a participé à de violents combats près du village de Saint-Etienne. Suite à cette victoire, qui comprenait la capture de plusieurs centaines d'hommes et d'officiers de l'armée allemande, ainsi que de l'artillerie, l'unité lança un assaut près d'une zone connue sous le nom de "Forest Farm".
The division was sent to Europe in July 1918 and conducted major operations in the Meuse-Argonne Offensive. On 9–10 October, the division participated in heavy combat near the village of St. Etienne. Following this victory, which included the capture of several hundred men and officers of the German Army, as well as artillery, the unit launched an assault near an area known as "Forest Farm."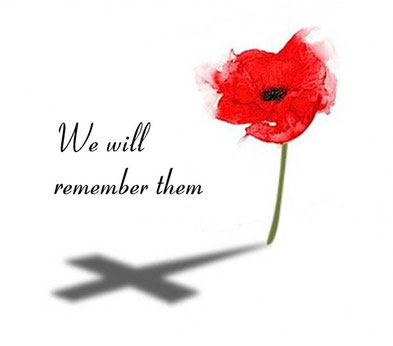 Il décède le 24 avril 1919 à l'hôpital de camp n°50 de nombreux maux : inflammation bilatérale sous-maxillaire (causée par la gangrène), myosite, infection des muscles du plancher buccal (due à la gangrène), pharyngite œdémateuse aiguë et œdème du larynx. D'abord enterré à TONNERRE, il part pour le port de SAINT NAZAIRE le 19 octobre 1920 et y arrive le 2 novembre. Transféré 20 jours plus tard pour HOBOKEN (New Jersey, USA) à bord de l'USS WHEATON, il y arrive le 15 décembre et pour son dernier voyage du 23 au 29 décembre 1920 direction BROWNSVILLE (Texas, USA) où sa mère l'attend. Il sera enterré au cimetière « Old City Cemetery » de la ville.
He died on April 24, 1919 at Camp Hospital No. 50 from numerous aches : bilateral submandibular inflammation (caused by gangrene), myositis, infection of the muscles of the floor of the mouth (due to gangrene), acute edematous pharyngitis and laryngeal edema. First buried in TONNERRE, he left for the port of SAINT NAZAIRE on October 19, 1920 and arrived there on November 2. Transferred 20 days later to HOBOKEN (New Jersey, USA) aboard the USS WHEATON, he arrived there on December 15 and for his last voyage from December 23 to 29, 1920, towads BROWNSVILLE (Texas, USA) where his mother waited him. He will be buried in the city's Old City Cemetery.
---
De Grace Moore-Hewett, sa petite-nièce
Il était un demi-frère de mon arrière grand-mère ; son père est mort quand elle était une petite. Ils ont donc eu des pères différents. Son nom de jeune fille était Guadalupe Flora Garcia. Elle a épousé mon arrière grand-père Cipriano Ramirez. Bien que nous soyons tous américains, beaucoup de nos ancêtres étaient originaires du Mexique.
Guadalupe est née en 1870 et était l'aînée de la famille. Salvador est né le 13 septembre 1890 et était le plus jeune. Il avait presque l'âge de mon grand-père, alors ils étaient comme des frères et sont partis faire la guerre ensemble. Salvador et la plupart des hommes de notre famille étaient des charpentiers. La plupart des hommes étaient aussi des musiciens. Je ne sais pas si Salvador l'était. Mon grand-père, Joe Ramirez, était très talentueux, il est donc parti faire la guerre en tant que musicien dans l'un des groupes de l'armée. Toute la guerre, il a diverti d'autres soldats et d'importants Français. Malheureusement, Salvador s'est effectivement battu et en est mort. Je ne sais pas avec certitude, mais on m'a dit qu'il était mort à cause du gaz moutarde.
From Grace Moore-Hewett, his great niece
He was a half brother to my great grandmother; her father died when she was a little girl. So they had different fathers. Her maiden name was Guadalupe Flora Garcia. She married my great grandfather Cipriano Ramirez. Although we are all Americans, many of our ancestors were from Mexico.
Guadalupe was born in 1870, and was the eldest in the family. Salvador was born 13 September 1890 and was the youngest. He was close to the age of my grandfather so they were like brothers and went to war together. Salvador and most of the men in our family were carpenters. Most of the men were musicians, too. I don't know if Salvador was. My grandfather, Joe Ramirez, was very talented so he went to war as a musician in one of the army bands. The entire war, he entertained other soldiers and important French people. Unfortunately, Salvador actually fought and died as a result. I don't know for sure, but someone told me he died because of mustard gas.