Né le 15 janvier 1890 à SANGIOVANNI (Foggia, Italie). Pas de mariage ni d'enfant connu. Il travaillait comme mineur à VIROPA (Virginie de l'Ouest, USA).
Born the january 15, 1890 in SANGIOVANNI (Foggia , Italy). No wedding and no child know. He was miner in VIROPA (West Virginia, USA).
Il s'engage le 5 juin 1917 comme le montre sa « Registration Card ». He join on june 5, 1917 as shown by his Registration Card. Sa dernière unité connue est le 110e régiment d'infanterie, compagnie I de la 28e Division ("Keystone Division") où il était private (en France c'est l'équivalent de soldat 2e classe). Son numéro d'identification était le 3 165 927.
His last known unit is the 110th infantry, company I of the 28th Division ("KeystoneDivision") where he was private. His serial number was 3 165 927.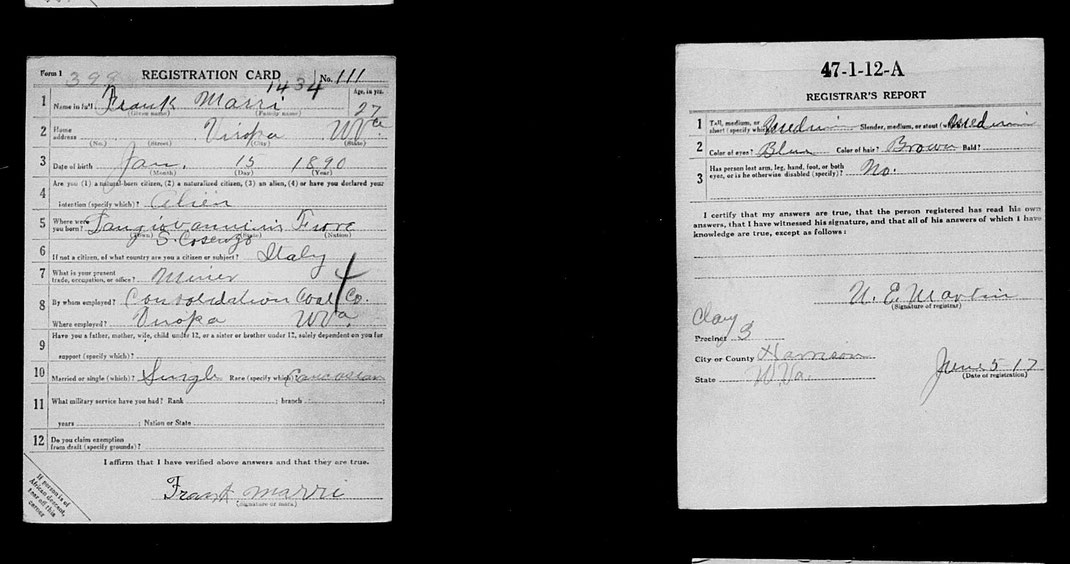 Il fut envoyé avec sa division en France, en mai 1918.
He was sent with his division to France in may 1918.

 La 28th division est déployé en Meuse-Argonne, Champagne-Marne, Aisne-Marne incluant la bataille de Fisme et Fismette, dans l'Oise-Aisne et les opération d'Ypres-Lys. 
The 28th division was deployed in Meuse-Argonne, Champagne-Marne, Aisne-Marne including the Battle of Fismes and Fismette, Oise-Aisne, and Ypres-Lys operations.
Il est mort des suites de blessures le 24 novembre 1918 à l'hôpital d'Auxerre. Son lieu de sépulture est inconnu.
He died of wounds the november 24, 1918 in Auxerre hospital. His burial place is unknown