Né le 23 novembre 1893 à BENOIT (Minnesota, USA). Marié avec Viola JOHNSON, pas d'enfant connu. Il travaillait pour la St Louis Southwestern Railway (compagnie de chemin de fer) à FAITH (Arkansas, USA).
Born november 23, 1889 in BENOIT (Minnesota, USA). Married with Viola JOHNSON, no child known. He was working for the St Louis Southwestern Railway in FAITH (Arkansas, USA).
Il s'engage le 5 juin 1917 comme le montre sa « Registration Card ». Sa dernière unité connue est le 512e régiment de génie, compagnie C,  uniquement composé de troupe de couleurs où il était private (en France c'est l'équivalent de soldat 2e classe) avec comme numéro d'identification 2 134 613.
He join on june 5, 1917 as shown by his Registration Card. His last known unit is the 512nd engineer, company C, which was composed only with colored soldier, where he was private. His serial number was 2 134 613.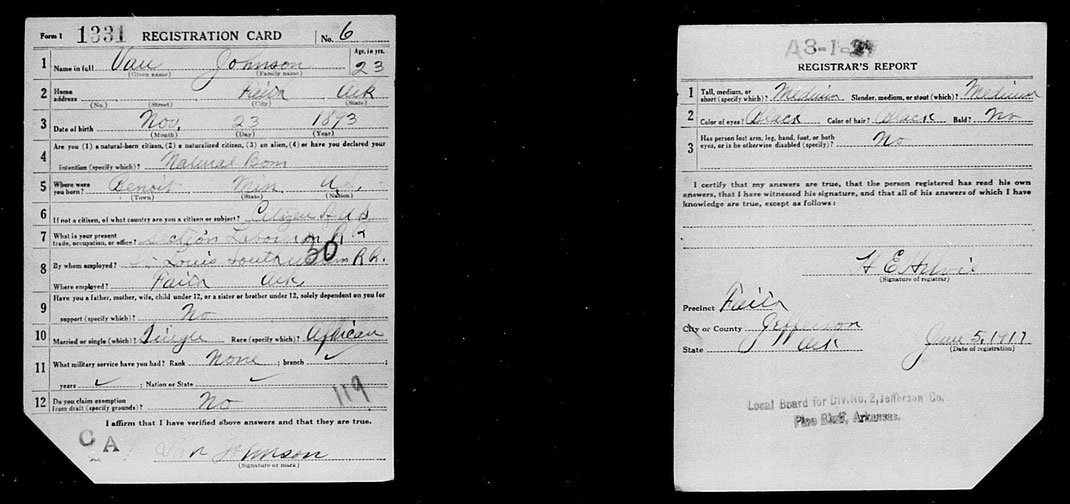 Il fut envoyé avec son régiment en France, le 7 avril 1918.
He was sent with his regiment to France the april 7, 1918.
Les archives de TONNERRE (Yonne, France) montre qu'il est mort de pleurésie sérofibrineuse le 15 novembre 1918 à l'hôpital de camp n°50. Il est enterré dans le comté de JEFFERSON (Arkansas, USA) au cimetière Curl Cemetery. Il est enterré à l'extérieur de la clôture du cimetière Curl, qui est un cimetière européen américain (cimetière de blancs alors que Van était afro-américain).
The TONNERRE archives (Yonne, France) shows that he died of pleurisy serofibrinous on november 15, 1918 at Camp Hospital No. 50. He is buried in JEFFERSON COUNTY (Arkansas, USA) at Curl Cemetery. He is buried outside the fence of Curl Cemetery which is an European American cemetery (white cemetery whereas Van was an afro american).