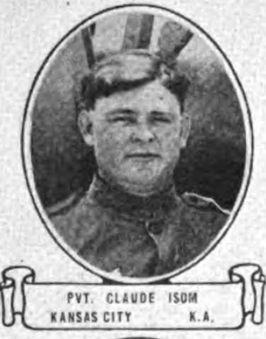 Né le23 novembre 1892 INDEPENDENCE (Virginie, USA). Marié avec Dollie et a un enfant. 
Born november 23, 1892 in INDEPENDENCE (Wisconsin, USA). Married with Dollie and have a child.
Il s'engage le 5 juin 1917 comme le montre sa « Registration Card ». Sa dernière unité connue est le 7e train d'approvisionnement, compagnie A, de la 7e Division ("Hourglass Division") où il était private (en France c'est l'équivalent de soldat 2e classe) avec comme numéro d'identification 490 982.
He joins on june 5, 1917 as shown by his Registration Card. His last known unit is the 7th supply train, company A of the 7th Division ("Hourglass Division") where he was private. His serial number was  490 982.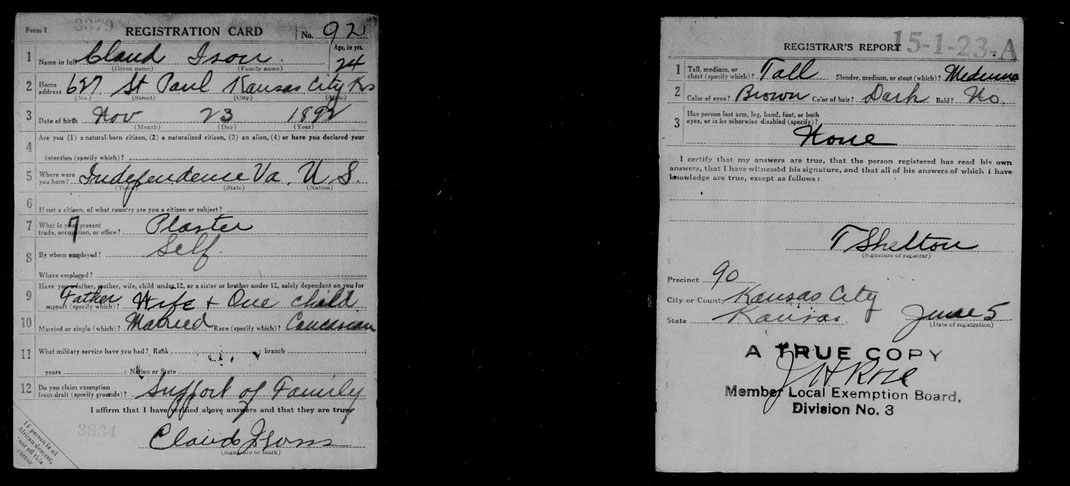 Il fut envoyé avec sa division en France, en juillet 1918.
He was sent with his division to France in july 1918.
La 7e division n'a pas vu les combats, c'est seulement ses éléments d'infanterie et de reconnaissance Le 11 octobre 1918, elle est venu sous le feu à Saint-Mihiel, et a subi les attaques chimiques. Des éléments de la 7e ont reconnu Prény, à côté de la Moselle, capturé des positions et conduit les allemands hors de la région. En septembre 1918, la division vient à la 15e zone d'entrainement dont le point central est ANCY-LE-FRANC (Yonne, France), à ARGENTENAY (Yonne, France).
The 7th division did not see action at full divisional strength, though its infantry and reconnaissance elements did engage German forces. On 11 October 1918, it first came under shell fire and later, at Saint-Mihiel, came under chemical attack. Elements of the 7th probed up toward Prény near the Moselle River, capturing positions and driving German forces out of the region. 
In september 1918, the division came to the 15th training zone whose central point is ANCY-LE-FRANC (Yonne, France), in ARGENTENAY (Yonne, France).
Il est mort le 7 septembre 1918 de blessures reçu lors d'un accident de voiture. Il est enterré à ARLINGTON (Virginie, USA) au cimetière « Arlington National Cemetery »
He died of injuries received in automobile accident the september 7, 1918. He is buried in ARLINGTON (Virginia, USA) and is buried at « Arlington National Cemetery »