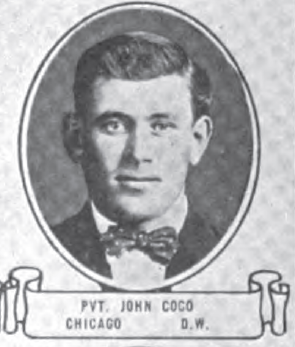 Né le 16 avril 1891 à CANISTRO (Province d'Aquila, Italie). Pas de mariage ni d'enfant connu. Il travaillait comme ouvrier en bâtiment.
Born april 16, 1891 in CANISTRO (Aquila, Italy). No wedding and no child know. He was building laborer
Il s'engage le 5 juin 1917 comme le montre sa « Registration Card ». Sa dernière unité connue est le 132e régiment d'infanterie, compagnie H de la 33e Division ("Golden Cross Division") où il était private first class (en France c'est l'équivalent de soldat 1e classe). Son numéro d'identification était le 1 389 607.
He joins on june 5, 1917 as shown by his Registration Card. His last known unit is the 132th infantry, company H of the 33rd Division ("Golden Cross Division") where he was private first class. His serial number was 1 389 607.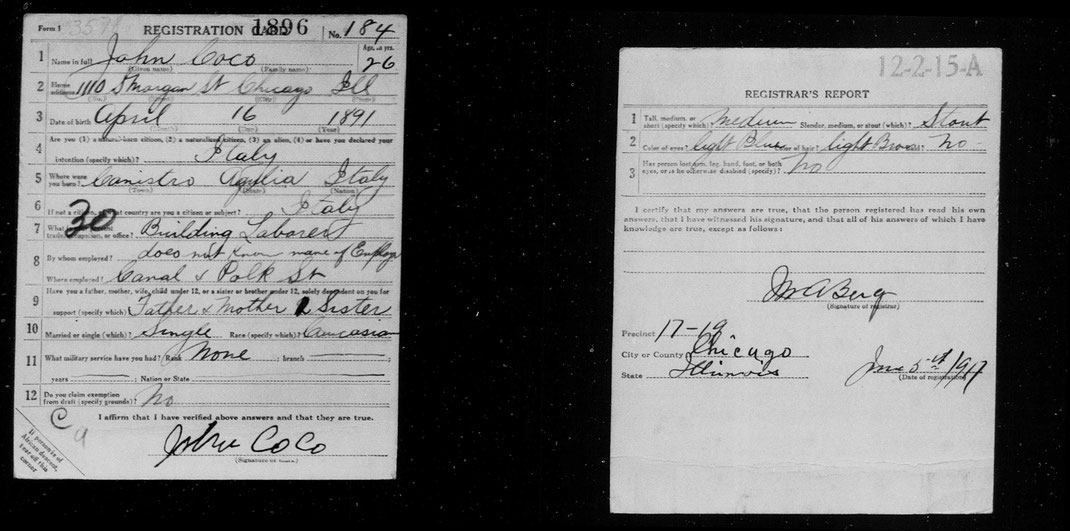 Il fut envoyé avec sa division en France, en mai 1918.
He was sent with his division to France in may  1918.
La 33e division prends part au combat dans sa totalité à partir de juin 1918 avec la bataille du Hamel puis elle part dans le secteur de Toul.
The whole 33rd division took part to fight in june 1918 with Hamel battle then it went to Toul sector.
Il est mort des suites de blessure le 14 octobre 1918 à PONTIGNY (Yonne, France). Il est enterré à THIAUCOURT-REGNIEVILLE (Meurthe-et-Moselle, France) au cimetière « Saint Mihiel American Cemetery and Memorial »
He died of wounds on october 14, 1918 at PONTIGNY  (Yonne, France). He is buried in THIAUCOURT-REGNIEVILLE (Meurthe-et-Moselle, France) and is buried at « Saint Mihiel American Cemetery and Memorial »