Né le 16 mai 1889 à BRIDGEPORT (Connecticut, USA) fils de William Henry CARROLL et de Mary Catherine RICE, il eut 3 frères. Jamais marié et sans enfant.
Il travaillait comme commis d'expédition dans une compagnie de phonographes dans la même ville.
Born may 16, 1889 in BRIDGEPORT (Connecticut, USA) son of William Henry CARROLL and Mary Catherine RICE, he had 3 brothers. Never married and no child. He worked as an shippering clerk in a phonograph company in the same city. 
Il s'engage le 5 juin 1917 comme le montre sa « Registration Card ». Sa dernière unité connue est le 142e d'infanterie, de la 36th division ("Arrowhead") où il était private (en France c'est l'équivalent de soldat) avec comme numéro d'identification 1 918 167.
He joins on june 5, 1917 as shown by his Registration Card. His last known unit is the 142nd infantry regiment of 36th Division ("Arrow Head")  where he was private. His serial number was 1 918 167.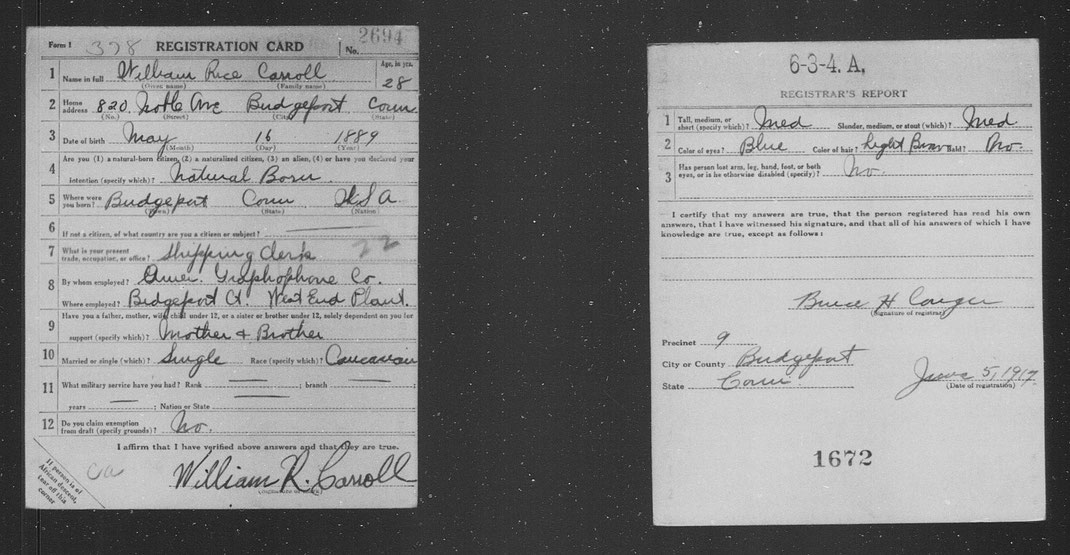 Il fut envoyé avec sa division en France, en juin 1918.
He was sent with his division to France in June 1918.
La 36e division participa à l'offensive Meuse-Argonne. Les 9 et 10 octobre, l'unité participa à un combat intense proche du village de Saint-Etienne. Après l'armistice, la division est envoyée à la 16e zone d'entrainement dont le point central est TONNERRE (Yonne, France), le régiment était à FLOGNY (Yonne, France).
The 36th division participated at Meuse-Argonne offensive. On October 9 and 10, the unit participated in an intense fight near the village of Saint-Etienne. After the armistice, the division is sent to the 16th training zone whose central point is TONNERRE (Yonne, France), the regiment was in FLOGNY (Yonne, France).
Les archives de TONNERRE (Yonne, France) montre qu'il est mort le 13 janvier 1919 à l'hôpital de camp n°50 d'une broncho-pneumonie. Il est enterré à THIAUCOURT-REGNIEVILLE (Meurthe-et-Moselle, France) au cimetière américain Saint Mihiel.
The TONNERRE archives (Yonne, France) shows that he died of broncho-pneumonia on January 13, 1919 at Camp Hospital No. 50. He is buried in THIAUCOURT-REGNIEVILLE (Meurthe-et-Moselle, France) at  Saint Mihiel American Cemetery and Memorial.