Né le 5 juin 1890 dans le comté de KING AND QUEEN (Virginie, USA) fils de John BERRY et de Ella JOHNSON, il était le plus jeune de 9 enfants. Pas de mariage ni d'enfant connu.
Born the june 5, 1890 at KING AND QUEEN COUNTY (Virginia, USA) son of John BERRY and Ella JOHNSON, he was the youngest of 9 children. No marriage and no child know.
Il s'engage le 5 juin 1917 comme le montre sa « Registration Card ». Sa dernière unité connue est le 808e régiment de pionnier, compagnie D où il était private (en France c'est l'équivalent de soldat 2e classe) avec comme numéro d'identification 4 014 767.
He join on june 5, 1917 as shown by his Registration Card. His last known unit is the 808th pioneer infantry, company D where he was private. His serial number was  4 014 767.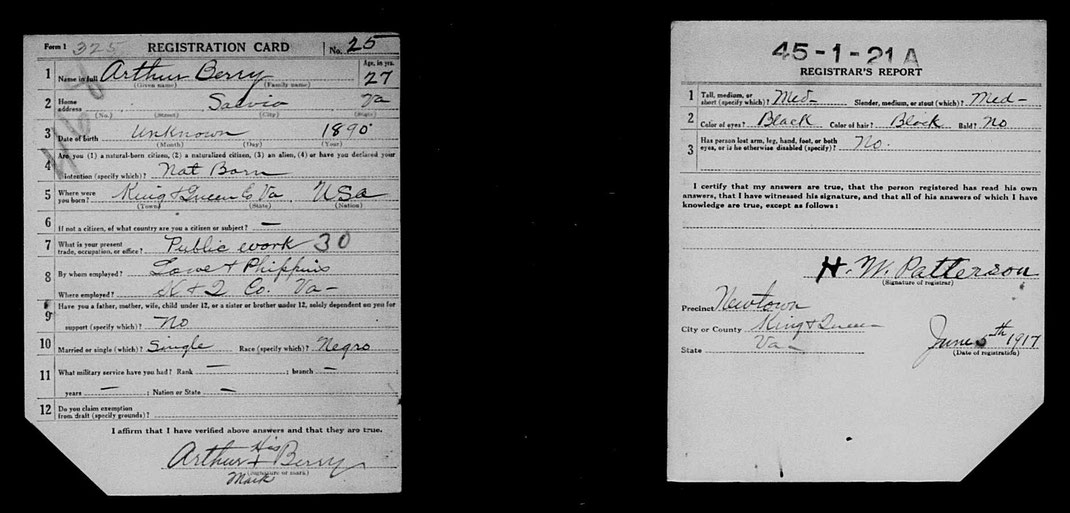 Il fut envoyé avec sa division en France, en août 1918.
He was sent with his division to France in august 1918.
Le 808e régiment de pionnier est composé d'afro-américain. Les unités de pionnier travaillaient pour améliorer les routes, ponds, chemin de fer et hôpitaux. Le régiment allait de BREST (Finistère, France) à un camp d'entraînement mais les malades ont été laissé à AUXERRE (Yonne, France).
The 808th Pioneer Regiment composed of African Americans. Pioneer units primarily worked improving and building roads, bridges, railroads and hospitals. The regiment went from BREST (Finistère, France) to a training camp but ill person was left in AUXERRE (Yonne, France).
Il est mort de pneumonie dans un train arrivant à VERGIGNY le 16 septembre 1918.  Il est enterré à SPARTA (Virginie, USA), au cimetière « Jerusalem Baptist Church Cemetery ».
He died of pneumonia in a train arrived at VERGIGNY, the september 16, 1918. He is buried in SPARTA (Virginia, USA) at « Jerusalem Baptist Church Cemetery ».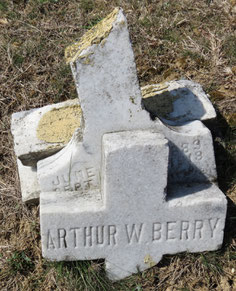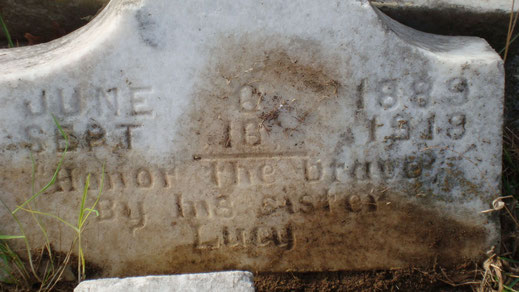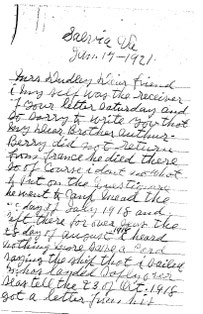 Salvia VA Jan. 14-1921
Madame Dudley cher ami, moi-même j'étais le destinataire de votre lettre samedi et désolé de vous écrire que mon cher frère Arthur Berry n'est pas revenu de France, il y est mort bien sûr et je ne sais pas quoi mettre sur le questionnaire. Il est allé au camp Mead un jour de juillet 1918 et est parti là-bas pour le 28 août 1918. J'ai entendu rien de plus qu'une carte disant que le navire que sur lequel il avais navigué était en sécurité à l'étranger dit le 23 octobre 1918 ...
Mrs Dudley dear friend, my self was the receiver of your letter saturday and sorry to write you that my dear brother Arthur Berry did not return from France, he died there so of course I don't no what to put on the questionnaire. He went to camp Mead the a day of july 1918 and left there for overseas the 28 day of august 1918 I heard nothing more save a card saying the ship that he sailed has layered safely overseas tell the 23 of october 1918 got a letter from his ...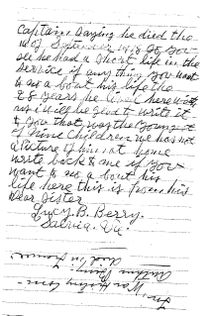 ... capitaine disant qu'il est mort le 16 septembre 1918 alors vous voyez qu'il a eu une courte vie dans le service s'il y a quelque chose que vous voulez savoir sur sa vie les 28 ans qu'il a vécu ici avec nous, je vais bien vous écrire qui était le plus jeune de mes enfants, n'avons pas de photo de lui à la maison, écrivez-moi si vous voulez savoir de sa vie ici c'est de sa chère soeur
Lucy B. Berry
Salvia VA
...captain saying he died the 16 of september 1918 so you see he had a short life in the service if anything you want to know about his life the 28 years he lived here with us I will he great write it to you that was the youngest of mine children wa had not a picture of him at home, write back to me if you want to know about his life here this is from his dear sister
Lucy B. Berry
Salvia VA