Né le 27 juillet 1889 à DALLAS (Texas, USA), fils de Jean Baptiste ADOUE (1846 – 1924) et de Mary Neosha SIMPSON (1954 – 1932) et a un frère et deux sœurs. Il épouse Katharine Striling SMITH (1892 – 1993) mais n'aura pas d'enfant.
Born july 27, 1889 in Dallas (Texas, USA), son of Jean Baptiste ADOUE (1846 – 1924) andMary Neosha SIMPSON (1954 – 1932), had one brother and two sisters. He married with Katharine Striling SMITH (1892 – 1993) but will doesn't have child.
Il s'engage le 29 mai 1917 comme le montre sa « Registration Card ». Sa dernière unité connue est le 111e train d'approvisionnement de la 36e Division ("Arrowhead") où il était 1st Lieutenant (en France c'est l'équivalent de lieutenant).
He joins on May 29, 1917 as shown by his Registration Card. His last known unit is the 111th supply train of the 36th Division ("Arrowhead") where he was 1st Lieutenant.

Il fut envoyé avec sa division en France, en juillet 1918.
He was sent with his division to France in July 1918.
La 36e division participa à l'offensive Meuse-Argonne. Les 9 et 10 octobre, l'unité participa à un combat intense proche du village de Saint-Etienne.
The 36th division participated at Meuse-Argonne offensive. On October 9 and 10, the unit participated in an intense fight near the village of Saint-Etienne.
Les archives de TONNERRE (Yonne, France) montre qu'il est mort le 11 février 1919 de broncho pneumonie, à l'hôpital de camp n°50 et que son corps a été exhumé le 1 septembre 1920 de Tonnerre. Il est enterré à DALLAS (Texas, USA) au cimetière « Grove Hill Memorial Park ».
The TONNERRE archives (Yonne, France) shows that he died of broncho-pneumonia, on February 11, 1919 at Camp Hospital No. 50 and his body was exhumed on September 1, 1920 from Tonnerre. He is buried in DALLAS (Texas, USA) at Grove Hill Memorial Park.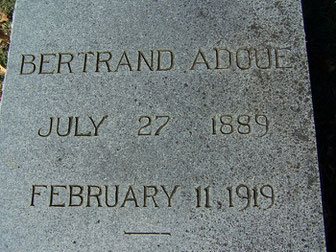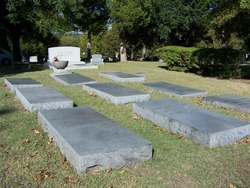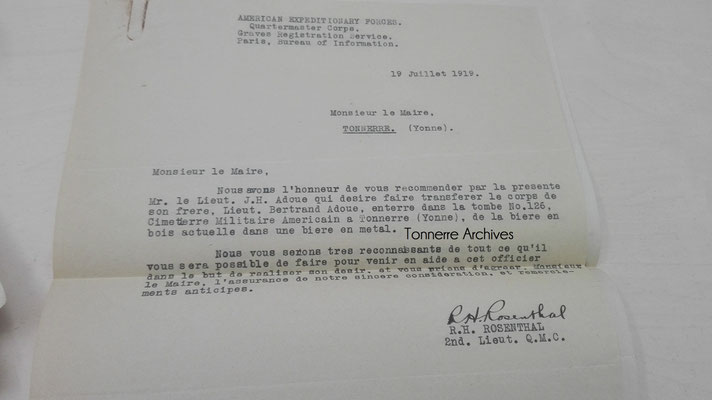 Le frère de Bertrand a envoyé une lettre le 19 juillet 1919 afin de faire transférer son corps au Etats-Unis.
Bertrand's brother sent a letter on July 19, 1919 to have his body transferred to the United States.
"Mister Mayor,
We have the honor to recommend you by this, Mr. lieutenant J. H. ADOUE, who wish to transfer the body of his brother, lieutenant Bertrandd ADOUE, buried grave #126, american military cemetery in Tonnerre (Yonne), wooden coffin to a metal coffin.
We would be very grateful for all that you can do to help this officer in order to fulfill his wish, and please accept, Mr. Mayor, the assurance of our sincere consideration and thanks in advance.
R. H. ROSENTHAL, 2nd Lieut, Q.M.C"
Madame Katharine ADOUE a fait une demande de passeport en juin 1919 pour aller voir la tombe de son mari Bertrand. Voici la photo qu'elle avait fourni pour le passeport.
Miss Katharine ADOUE applied for a passport in June 1919 to see the grave of her husband Bertrand. Here is the picture she provided for the passport.
Elle se remaria avec Turner Anderson PITMAN et vécu jusqu'en 1993.
She remarried with Turner Anderson PITMAN and died in 1993.